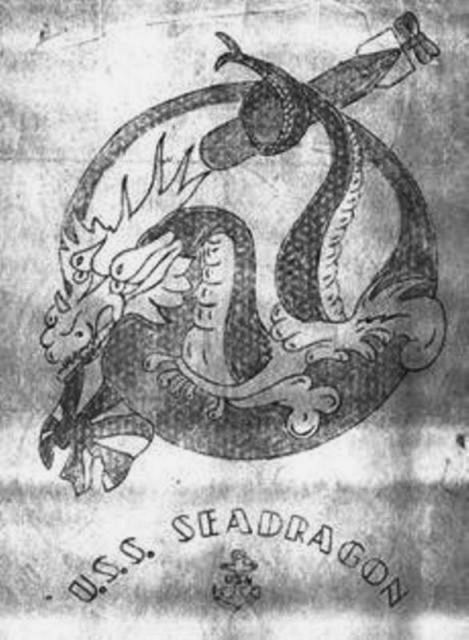 PRECOMMISSIONING PERIOD

    The keel of the U.S. S. SEADRAGON was laid at the Electric Boat Company, Groton, Connecticut on April 10, 1938. She was launched on April 11, 1939 and christened the

"SEADRAGON" by Mrs. J. O. Richardson, wife of Admiral James  Otto Richardson,  Commander-in-Chief of the United States Fleet.

   The launching was highlighted by an unusual accident which prevented the "SEADRAGON" from sliding completely down the ways. Despite strenuous efforts on the part of the launching crew, it was not until eighteen days later, when a new cradle had been installed under her, that she gracefully completed her slide into the waters of the Thames.

     She was commisioned at the United States Submarine Base, New London, Connecticut on April 23, 1939 with Lieutenant John G. Johns USN as her first Commanding Officer.

The other officers were:

Lieut. George K. Holley............Executive Officer

Lt (jg) Frances W. Scanlend..Engineering Officer

Lt (jg) N. G. Ward.......................Torpedo Officer

  Lt (jg) Charles S. Henning..Communications Officer

PRE-WAR PERIOD

   After the commisioning the SEADRAGON made a shakedown cruise to several east coast ports including Annapolis, New Orleans, Coco Solo, Newport, and Portsmouth N. H. During this time many wrinkles were ironed out and officers and men began to function as a unit. Following a short refit period at the submarine yard, Portsmouth, she conducted torpedo trials at Newport, then proceeded to the west coast via Panama and joined the fleet at San Diego, Calif. Departing there, she proceeded to Manilla, with a short stop at Pearl Harbor, and conducted extensive training in the Southwest Pacific as a part of Admiral Thomas C. Kert's fleet. During this period Lieut Johns suffered a broken leg in an automobile accident and Lieut. W. E. Farrell asumed command. When the Japs made their fateful sneak attack on December 8th (Philipine time) the SEADRAGON was just starting an overhaul period at the Cavite Navy Yard.

    During an air attack on the tenth of December a direct hit on the SEALION, which was moored alongside, completely demolished that vessel and seriously damaged the SEADRAGON.

The communications officer was killed and several other men were wounded as shrapnel blew through the conning tower. Emergency repairs were effected and leaving the Manila area just before Christmas, the SEADRAGON headed south for Soerabaja, N.E.I., with about twenty evacuees aboard. At Soerabaja, additional repairs were made and on the thirtieth of December, 1941 the SEADRAGON set out for her first war patrol.

FIRST WAR PATROL:  30 December 1941 to 13 February 1942-46 days

Commanding Officer-LT. Comdr. W.E Farrell USN

Successful

Area-South China Sea

   The patrol area was the South China Sea and these were exciting days. As effective as percoting training may be, there are always many heads up and surprises in learning to fight by actual experience. The ocean was full of Japs and a total of 36 contacts were made. Attacks were made on eleven of these, firing a total of nineteen torpedoes for only three hits. These three, however, bagged a 7000 and an 8000 ton freighter. One battle surface was made against a medium freighter with much personal satisfaction but very little damage to the Japs. It was during this patrol that Tokyo Rose described the rusty and red-leaded-coated SEADRAGON as a pack of marauding red submarines The "Red Pirates of the China Coast", as she called this group was in reality only the SEADRAGON her Skipper, "Foto" Farrell, roaming the China Sea with torpedoes blasting out of the bow and stern tubes at the scurrying Jap merchantmen.

     At the end of the patrol, a stop was made at beleaguered Corregidor to evacuate twenty to thirty passengers to the relative safety of Soerabaja and then the SEADRAGON proceeded to Freemantle  W.A.

SECOND WAR PATROL  18 March to 20 April 1942-33 days

Commanding Officer- Lt. Comdr W.E. Farrell USN

Unsuccessful

Area-South China Sea

     Departed Freemantle, W.A. for patrol in the South China Sea, but before reaching the area were ordered to Cobu to pick up fuel and stores for Corregidor. The isolated stronghold at Corregidor was reached after avoiding many Jap destroyers only to find that Bataan had fallen and the situation had changed again. Twenty-one passengers, mostly communication personnel, were taken aboard and we headed for Australia. Numerous contacts were made enroute, many of them being Jap destroyers patrolling the various channels. With our evacuees on board the primary mission was not offensive combat and no successful attacks were made. Returned to Freemantle for refit.

THIRD WAR PATROL: 11 June to 2 August 1942-53 days

Commanding Officer-LT Comdr. W.E. Farrell USN

Successful

Area-South China Sea

   After being refitted, the SEADRAGON departed Freemantle and returned to her old stomping grounds in the South China Sea. This patrol was short, but sweet, resulting in a bag of two 7,000 ton, and one 4,100 ton Jap marus. Returned to Freemantle after 21 days in the area with another successful patrol under our belt.

FOURTH WAR PATROL; 26 August to 20 October 1942-54 days

Commanding Officer- Lt. Comdr W.E. Farrell USN

Successful

Area-South China Sea

    Departed Freemantle, W. A. for another patrol in the South China Sea. Five attacks were made which resulted in the sinking of two large freighters, one 7000 and one 5500 tons. An unsuccessful attack was made against a cruiser in a task force.IIt was during this patrol that our pharmacist's mate, W.B. Lipes performed the now famous appendectomy on xxxxxx first-class D. D. Rector while the boat was riding submerged at 120 feet. This was the first appendectomy that was ever performed on a submarine while on war patrol in enemy waters, and was conducted on the wardroom table with hurriedly instructed men and officers as assistants. There were a few days of anxious waiting following the operation, but the patient was up and about his duties in remarkably short time, and made several more war patrols.

FIFTH WAR PATROL; 23 November 1942 to 7 January 1943-43 days

Commanding Officer- Lt. Comdr W.E. Farrell USN

Successful

Area-East of New Britain in St. Georges Channel

   After the fourth patrol, passage was made from Freemantle, around the southern end of Australia, past Tasmania to Brisbane, Australia.

      Departed Brisbane on November 23, 1943 and proceeded through the Coral Sea to the west of Rebaul and our patrol area in St. Georges Channel, New Britain. During the time in this area there were many contacts, but the SEADRAGON was able to close only six of them for attack..

SHIP'S HISTORY

UNITED STATES SUBMARINE SEADRAGON

(SS194)

The following is a brief, factual history of the SEADRAGON taken from her records and patrol reports, It is not meant to, nor can it, tell completely the true story of the ship and the men who sailed her. The following is a list of her commanding officers:

Lieutenant John G. Johns USN

Lt.Comdr. W.E. Farrell USN

Lt. Comdr. R. L.. Rutter USN

Commander J. H. Ashly Jr. USN

Lt. Comdr. L. L. Davis Jr. USN

Lt. (jg)  A. G. Naas USNR

   On these attacks nineteen torpedoes were fired for a total of only  four hits. With these four, however, one I-class submarine and a 6000 ton freighter were sunk, and a 4800 ton freighter was damaged. This damaged freighter was hit and began to settle by the stern, but her escort took her in tow and limped off toward Xabrul. Chase was not possible because the escort and tow would reach port before the SEADRAGON could overtake them.

   An amazing total of 57 destroyers were sighted during this patrol. Most of them in groups of two, three or four carrying supplies and troops to isolated Jap garrisons. All were making about twenty-five knots and only a few could be closed. A properly marked hospital ship was sighted on two occassions following the same track as the destroyers, presumably, but not assuredly, carrying out evacuation of wounded.

   The sinking of the Japanese "I" class submarine as told by chief radioman Raymond Christian of Detroit, Michigan, who was aboard the SEADRAGON on all twelve of her war patrols and was awarded the Bronze Star Medal for the part he played in her success:

   On the night of 20 December 1942, while we were patrolling off Rebaul,  a Japanese submarine fired two torpedoes at us. We saw them in time and were able to avoid them, but it made the Skipper mad. He figured that the Japs were lying just off the entrance to the harbor at night in hopes of ambushing us, then running into the harbor before dawn to charge their batteries. Well, the Captain decided two can play at that as well as one, so we headed up the channel to the anti-submarine net. It seemed reasonable that any Japs entering or putting out of the harbor would have to surface to get by that net, so we lay there submerged waiting to prove our point. Early on the morning of 22 December a Jap submarine surfaced in front of us just outside the net. It was the chance we had been waiting for. We fired three quick shots at him, but they almost proved our downfall rather than our point. The first torpedo exploded prematurely just after leaving the tube. The concussion blew us to the surface, knocking everyone in the forward torpedo room off his feet and causing minor damage throughout the boat. This explosion caused the second torpedo to run wild and at the same time alerted the lookouts on the Jap boat. The Captain could see them through the periscope jabbering wildly and pointing in our direction, but before they could successfully maneuvor out of position, the third torpedo hit them in the stern with a blinding flash. Since I was acting as unofficial photographer for the SEADRAGON, the captain called me to the conning tower to get a picture.

   I finished the picture as soon as possible and took a look through the periscope for myself. I don't think that I shall ever forget that sight. About 25 feet of his bow was stivking out of the water. It was pointing almost straight up in the air, and as I watched, it began to slide back slowly, gently, so that as it slid beneath the surface there was scarcely a ripple. It gave me a very strange feeling as I watched that sub sink. I couldn't help but think that it might very well have been us going down like that. There were no survivors.

    After spending 28 days in the patrol area and expending all torpedos, departed area for Pearl Harbor and then proceeded to Mare Island, California for overhaul.

   This patrol ended the 1st phase of the SEADRAGON'S war record. In five patrols she had sunk 9 ships, including an I-class submarine, and had damaged one freighter a total of 50,000 tons sunk and damaged. The C.O. Lt. Comdr W.E. Farrell had received a Navy Cross and Silver Star Medal.

   During the overhaul at Mare Island Lt. Comdr. R.L. Rutter, USN assumed command and carried the SEADRAGON through her next four patrols during the time of our Navy's advance through the Marshalls, Carolinas and on towards Saipan.

SIXTH WAR PATROL; 9 May to 21 June 1943-42 days

Commanding Officer- Lt. Comdr R.L. Rutter USN

Not Successful

Area:    Truk,  Ponepe,   Kwajalein Islands.

   Departed Pearl Harbor on May 9, 1943, after returning from a three month overhaul at Mare Island. Proceeded via Johnson Island to the Truk area. While in vicinity of Truk and other nearby islands three contacts were made. It was possible to attack only one of these. This was a lightly loaded freighter of 6900 tons. Four torpedos were fired resulting in two hits, and she was last seen well down by the stern. Lacking positive proof of sinking, only credit for damaging was received. On one occasion the O.O.D. saw a Jap submarine surface astern on parallel couse-surprised-Jap dived-Seadragon dived. There was no further contact. A properly marked hospital ship was seen entering and leaving Truk.

After spending 28 days in the area, departed for Midway and arrived on 21 June 19434.

SEVENTH WAR PATROL  18 July to 3 August 1943-44 days

Commanding Officer- Lt. Comdr R.L. Rutter USN

Successful

Area:   Wake and Marshall Islands.

   Departed Pearl Harbor for Wake area. Made four attacks on convoys entering and leaving Wake, damaging a freighter each time and two on the last attack for a total of five meduim sized marus damaged. None were actually seen to sink and credit could not be claimed. (Details of this patrol were not available).

EIGHTH WAR PATROL  24 September to 5 November 1943--43 days

Commanding Officer- Lt. Comdr R.L. Rutter USN

Successful

Area:  Marshall Islands.

   Departed Pearl Harbor on September 24, 1943 and proceeded to the Marshall Islands area via Johnston Island for fuel. Two ship contacts were made and a successful attack carried out against one of them. It was a large cargo passenger ship of about 8000 tons and after a long chase lasting 24 hours we finally reached a firing position and sank her with two hits out of four torpedoes.

   Conducted extensive reconnaisance of Kwajalein Islands without any ship contacts and departed for Pearl Harbor after spending 31 days in the area.

NINTH WAR PATROL  14 December 1943 to 30 January 1944-46 days

Commanding Officer- Lt. Comdr R.L. Rutter USN

Successful

Area:  North of Truk

   Departing Pearl Harbor for Truk with a stop at Johnston Island for fuel. In the area there were five contacts and attacks were made against two of them. The first was a night attack against a convoy and four torpedos bagged a large 7000 ton freighter with three hits. The next episode was a small fast task force which zigged at the last minute and left SEADRAGON out in the cold.

   On the second attack against a heavily escorted 3 ship convoy, hits were made in two of them. Left station and returned to Pearl Harbor after 30 days in area.

   The ninth patrol ended Lt. Comdr. Rutter's tour of duty with the SEADRAGON. The total for his four patrols was two ships sunk and eight damaged bringing the SEADRAGON'S total to 68,000 tons sunk and 49,000 damaged. He received a Silver Star Medal for 23,000 tons sunk and damaged on the 9th war patrol.

   Lieutenant Commander J.H. Ashley then assumed command of the SEADRAGON and guided her through the tenth, eleventh, and twelfth patrols as the Navy rolled up the Philippines, the Boning , and almost to the Empire. the enemy was desperate by this time. His merchant fleet was fast being depleted and Jap destroyers, instead of being terrors of the ocean, had become good targets for our sharp shooting submarine crews. The SEADRAGON patrolled traffic lanes between Singapore and the Empire and sailed right up to Tokyo Bay. A periscope view of Fujiyama was quite a sight. Wolf packs had come into being and Jap convoys were completely annihilated by packs giving them a two or three day working over.

TENTH WAR PATROL  1 April to 25 May 1944--55 days

Commanding Officer- Lt. Comdr J.H. Ashley USN

Successful

Area:  South of Jap Mainland

   Departed Pearl Harbor 1 April via Johnston Island for fuel stop-over then on to patrol off the area mainland of southern Japan an attack against an escorted four ship convoy one hit in a 3500 ton freighter. An unsuccessful attack was made against a large naval auxiliary followed several days later by an attack against two large freighters in which a three torpedo spread got one hit. A small submarine was sighted early one morning but was too far away for an attack.. A successful gun attack was made against a 150 ton armed trawler. No prisoners were taken but several souveniers were salvaged before she sank.

   29 days were spent in the area then the SEADRAGON departed for Pearl Harbor via MIdway and on to the west coast for overhaul.

ELEVENTH WAR PATROL  23 September to 8  November 1944-46 days

Commanding Officer- Lt. Comdr J.H. Ashley USN

Successful

Area:  South of Formosa

I have been sent 14 pages which include a log from the WW2 patrols of SEADRAGON SS194. They were sent to me by Michael Smith, son of Leo Smith who was a crewmember on the ship. Although Michael doesn't think his Father wrote the log, he has donated it in his name with author unknown. The pages are not legible if published by themselves, so I am retyping the content next to each page and publishing them as I go.  Some of the names and places are not legible even from the sheets that I have. I have left some questionable words in red and I'm sure there are other mistakes. If anyone who might know some of these places and names can shed some light, It would certainly help.

Thanks

   After a three month overhaul at Mare Island, California the SEADRAGON went to Pearl Harbor for training, then on to the area between Formosa, Hainen, and Luzon with a stop-over at Saipan for fuel. Between Saipan and the area, a tropical typhoon was encountered which tossed SEADRAGON around quite a bit. This patrol was made in company with the SHARK and BLACKFISH as a wolfpack, and was the most successful in the SEADRAGON'S war career. In a night attack against a fast Jap task force, three hits were obtained in a carrier and one in a cruiser. Two days later an escorted, three ship convoy was encountered. Two torpedoes sank the first freighter and she soon had company on the bottom as the next was hit by three and the third by two torpedoes, completely finishing off the convoy and leaving the Jap planes and Chidoris to escort each other. The SHARK was lost during this patrol, (presumably by depth-charging.)

   Torpedoman first-class, James Clair Evans of Shelsburg, Iowa, who made ten of the SEADRAGON'S twelve war patrols, described the attack on a Japanese aircraft carrier on the night of 22 October 1944. Evans had been awarded the Bronze Star Medal for his work on this night and the attack two days later which resulted in the sinking of three Jap freighters.

   "On the night of 22 October 1944 we were cruising along north of Manilla about half way across the South China Sea. We knew there was a big battle brewing south of us but everything had been quiet in area for several days and we were afraid we were going to miss the fun. It was almost midnight when the nightly  poker game in the crews mess was interrupted by word coming down from the bridge that an enemy contact had been made. The Captain, Commander James H. Ashley Jr., called battle stations immediately and we went to our stations knowing by the extreme range at which contact had been made that it was something big. We didn't have long to wait. It was a pitch dark night, hot and muggy and as we sweated to get our tubes ready for firing we knew competition would would be running high among the lookouts as they strained to get the  glimpse of our target. We could hear reports over the speaker system as they first began to distinguish and then gradually identified a carrier, three cruisers, and several escorting destroyers. It was a fast task force heading south at a speed which gave us little time for meditation. Singling out the carrier the Captain passed the word to standby, waited for her to get into position and fired. We were heading away from them in hopes of getting outside their screen of destroyers so that we might stay on the surface and watch the results but shortly after firing one of the lookouts spotted a destroyer bearing down on us about 1700 yards away and we were forced to go down.

   Almost before the boat was completely submerged we heard the first expolsion, then another and another, and finally a fouth. We surfaced about three quarters of an hour later but the sea was empty. There was no way of telling whether or not the carrier had sunk or what damage we had done, but it was a thrill to have hit them four times with four "fish". ( On the basis of technical data the SEADRAGON was given credit for getting three hits in the carrier and one in the cruiser. Naval intelligence later learned through prisoner of war reports that a carrier had been sunk that night in that area, but no change has been made on the original assessment for the SEADRAGON.)

   B-29 strikes on Tokyo were beginning and the SEADRAGON spent much time searching for downed aviators. Many times we we watched the superforts roar overhead on the "Terror of Tokyo Raids" and many close ones were experienced when Jap planes came out pursuing the retiring mighty forts.

   After spending 20 days in the area and expending all torpedoes we returned to midway for refit.

TWELFTH WAR PATROL  3 December 1944 to 2 February 1945-62 days

Commanding Officer- Lt. Comdr J.H. Ashley USN

Unsuccessful

Area:  Bonin Islands and Japanese Empire

   Departing from Midway, the SEADRAGON began a long, combination lifeguard and offensive patrol. Only one attack was made and that, against a small freighter, was unsuccessful. Many B-29's were observed passing overhead on their way to Tokyo, Nagoya, Nagasaki and other vital targets. Much time and fuel was was expended searching for downed "zoomies", but none were recovered. A total of 9100 miles were steamed in this run which should be something of a record. On New Years Day SEADRAGON made her 1000th dive with the same ease and speed that she made the 999 before and the 520 afterwards

   After 30 days in the area, the SEADRAGON returned to Pearl Harbor stopping briefly in Guam on the way to take on much-needed fuel





*



*


*
   This ended the war patrol life of the SEADRAGON. Comdr Ashley's score for his three patrols was three ships sunk and four damaged.

POST-PATROL ACTIVITIES

   After her twelfth war patrol Lieut. Comdr. L. L. Davis Jr. relieved Commander J. H. Ashley to pilot the SEADRAGON through the green pastures of a tame submarine's training activities. After a refit in Pearl Harbor two months were spent in Monterey, California, training Alameda aviators. In May we departed via Panama for New London but were delayed for one month at Guantanamo training destroyer and destroyer escort killer groups and Midshipmen. From there we reported to Fleet Sonar School at Key West for the months of August and September and finally to New London. Submarine students clambered over the SEADRAGON for a week, then the Board of Inspection and Survey took up most of our time until we departed for  Providence, Rhode Island for Navy Day and Boston for decommissioning.

The damaged included a carrier and cruiser, bringing the total score for twelve patrols to 82,000 tons sunk and 90,000 tons damaged. The "Old Pirate" had really done her part and well deserved retirement to the training fleet.

   The following awards were made to officers and men of the SEADRAGON:

NAVY CROSS


SILVER STAR


BRONZE STAR
Lt. Comdr.



Lt. Comdr.


    R. B. Christian
W. E. Farrell USN

   W. E. Farrell USN

       CRM USN
Lt. Comdr.



Lt. Comdr.


     M. Donohue
W. E. Farrell USN

   J. W. Reed USN

   CMoMM
Comdr.



   Lieut.




J. C. Evans
J. E. Ashley Jr. USN

E. A. Hemley, USN

TN 1/c USNR










H. Lick Com, USN
LETTERS OF COMMENDATION

WITH RIBBON

Comdr. J. H. Ashley Jr USNR

A.J. Meyers GM 1/c USNR

L. S. Davis CRT, USNR

T. Collins TM 1/c USNR

R. E. Engstrom MoMM 1/c USNR